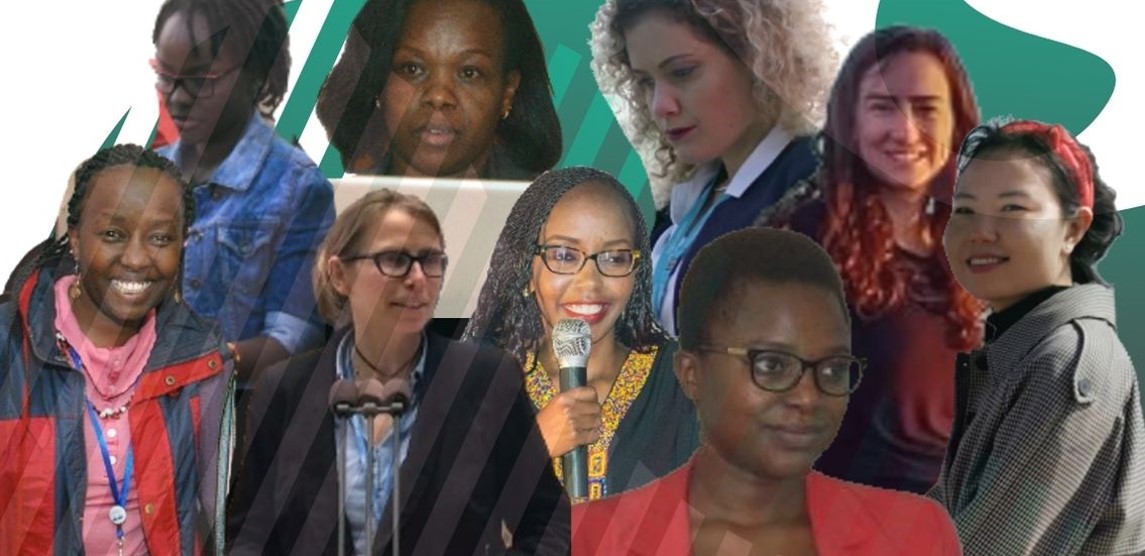 9 women of the Development Corridors Partnership creating pathways for sustainable and equitable African futures
This International Women's Day, we shine the spotlight on 9 women within the Development Corridors Partnership (DCP) who provide leadership and expertise, both global and local, to the implementation of development corridors that carry positive outcomes for the people and biodiversity of Kenya and Tanzania.   
It is widely recognized that gender equality is a critical prerequisite for development outcomes that drive a nation forward. Although women represent half the world's working-age population, they only make up 39% of the world's active labour force, and 28% of global managerial positions[1]. The active participation of women as planners, researchers, policy- and decision-makers within developmental initiatives ensures better representation of perspectives across the board[2], and this is no different for development corridors in Sub-Saharan Africa.
The DCP's women bring diverse experiences and perspectives to the table, and their voices and insights are critical to challenge assumptions that the presence of an infrastructural or agricultural project can lead to an equal and sustainable development to a country.
Here, we speak to some of them about their career trajectories and their perspectives about the road to equality and development, while celebrating their individual journeys.
Lucy Waruingi
Executive Director, African Conservation Centre (ACC)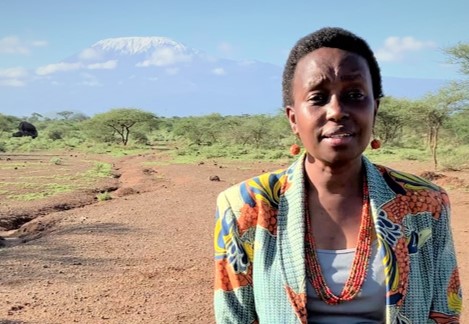 Stemming from a high-school love for mathematics, it was Lucy Waruingi's BSc in Computer Science and Statistics that first brought her to the conservation projects happening at the ACC. She soon realized that her interest was changing from data analysis to conservation science.
Over two decades and numerous highlights later (including a later MSc in Geographic Information Systems and tales of being the sole woman team member in the bush), she now provides leadership to ACC as its Executive Director, taking charge in a field that has been historically male dominated in East Africa. Her work also takes her into pastoral communities in Kenya, which are firmly entrenched in patriarchal hierarchies, and so she finds that in three spheres – in academia, in leadership, and on the ground – there remains space for better female representation. "Sometimes it's only when I sit in a room for a meeting that I realize halfway through – there's no other lady at this meeting!"
"We need to encourage girls, but also need to be more available –to provide guidance, and nudge them on when needed to make them more confident"
She has experienced the positive affirmation women in various communities have felt when they realize she is a woman holding a leadership position, and she highlights the importance of being an active and available mentor to budding women scientists.
Swenja Surminski
Head of Adaptation Research, Grantham Research Institute on Climate Change and the Environment, LSE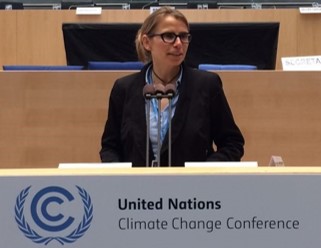 Dr. Swenja Surminski explores how investors can better align with Sustainable Development Goals (SDGs) within the DCP, while heading climate resilience and adaptation at the Grantham Research Institute. She began her journey with a bachelor's in political science and economics, and after her PhD, also spent a decade in the insurance industry working on climate risk, before taking on her current interdisciplinary role at Grantham.
With the experience she has had across these roles, she's a vocal advocate for ensuring that science and research remains as applicable and collaborative as possible.
"If you're working on a topic like climate change, it doesn't help much If you have a very siloed and narrow view. What I really enjoy is trying to make science accessible, but also actually feeding back the decision-makers' needs to research design… Policymakers and industry are very interested, and need input from us, so I think it's quite rewarding."
As a mother to four young children, she feels that the barriers for a successful work-life balance have significantly lessened from even a generation ago for parents with careers, especially for women. However, when it comes to climate resilience, she notes that the growing awareness of the inequal impact of climate change on women needs to be translated into practical support for women in affected regions, both in the Global North and South.
Han Meng
Executive Director, WCMC Beijing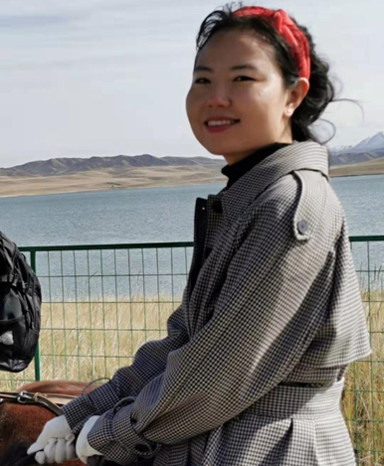 Dr. Han Meng comes from a physical sciences background and has a PhD in Geoinformatics and Remote Sensing from the University of Cambridge, UK. She later joined UNEP-WCMC as a part of the Climate Change team, and after holding diverse roles within the organization, she is now based in Beijing as the inaugural Executive Director for WCMC Beijing.
"I enjoy the level of impact that we are creating within our work in DCP – the topic of infrastructure is so important, and we are bringing together Chinese investors with their African counterparts and exploring how we can jointly bring about sustainability."
The WCMC Beijing office is an all-female team right now, and Dr. Meng would encourage more women and girls to continue to strive when it comes to exploring new opportunities and taking risks. Despite the gender roles that women continue to be boxed into in certain instances, such as familial commitments, she's also certain that many new avenues have opened up for women, in China and around the world. "Sometimes it's like climbing mountains – you can only see what's beyond after climbing the first hill, and when you get to see more, you just keep going".
Catherine Sang
Postdoctoral Research Associate – DCP, Institute for Climate Change and Adaptation (ICCA), University of Nairobi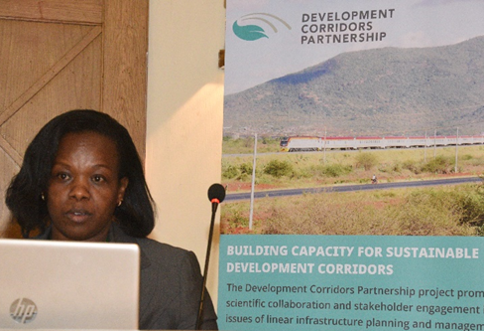 Dr. Catherine Chebet Sang is an Environmental Scientist with over 10 years of experience in research. She is also a lecturer at the Department of Environmental Planning and Management at University of Eldoret and holds a PhD in Environmental Information Systems from University of Eldoret, Kenya. Her own inspiration comes from African environmental leader and Nobel laureate Prof. Wangari Mathai, whose work especially focused on protection and restoration of forests as water catchment areas.
"Her memorable quote is, 'It is the little things Citizens do that make a difference'. My 'little thing' is to contribute towards sustainable water management."
Dr. Sang's work focuses on long term solutions to water accessibility issues in Kenya, while developing best practices for inclusive and sustainable economic growth, climate change resilience, and withstanding of other risks. Women are already disproportionately affected when communities face water scarcities, as the burden of fetching water and household duties fall on their shoulders. These impacts are worsened with the impacts of climate change, such as prolonged drought, and Dr. Sang's work is critical to propose strategies for gender-equal adaptation.
Jessica Thorn
Research Associate, Department of Environment and Geography, University of York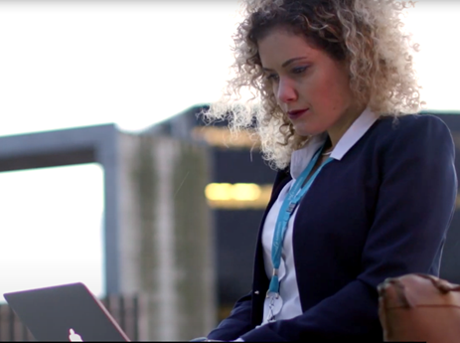 Starting out in her hometown of Windhoek, Namibia, Dr. Jessica Thorn studied a BSocSci in Human Geography at the University of Cape Town before completing her MSc (Environmental Change and Management) and DPhil (Zoology) at the University of Oxford, UK.
As a social-ecological systems scientist, she is interested in how infrastructure development and urban planning can become more equitable for marginalized communities, while restoring benefits coming from well-functioning natural ecosystems. She has worked closely with women's groups in Namibia, Tanzania, Ghana, Peru, South Africa, Nepal and Kenya, to collaboratively develop solutions that benefit their livelihoods and wellbeing.
"In the face of uncertainty and complexity, I am interested in exploring how to bring together diverse, and sometimes opposing perspectives in order to think about the future and navigate trade-offs between investing in nature and development in a more systemic way. I am excited to see the women in climate science and conservation increasingly taking the stage to drive the development agenda in the Global South!"
She advises that women who are in conservation and infrastructure development, fields that tend to be male dominated at higher levels, should seek out good female mentors who can give sound, independent guidance about career decisions, and they should in turn try to mentor others.
Kate Gannon
Postdoctoral Researcher, Sustainable Development Team, Grantham Research institute on Climate Change and the Environment, LSE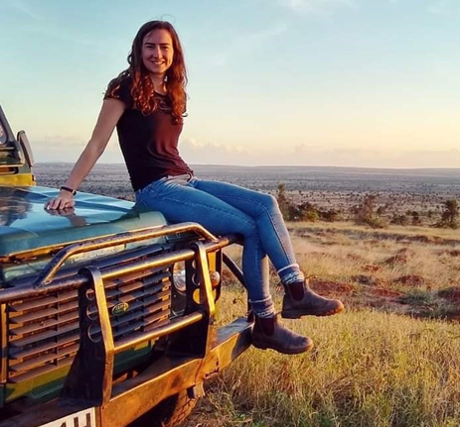 Dr. Kate Gannon's background is in human geography, and her work is especially focused on the social and institutional dimensions of sustainable development and climate change adaptation, particularly in sub-Saharan Africa.
"It's rewarding for me to work on projects that are very problem-focused and targeted at addressing some of the biggest sustainable development challenges of our time. Following your passion is important, because we do our best work when we focus on things that truly motivate and interest us!"
She became interested in the development corridors partnership project because of the potential impact that development corridors will have across all dimensions of sustainable development in Africa. Economic, social and environmental dimensions all interact through development corridors, and they need to be carefully managed and governed if corridors are to achieve their promises of lifting some of the world's poorest people out of poverty, while not compromising fragile ecosystems and climate pledges.
Florence Gichoya
Communications Officer, African Conservation Centre (ACC)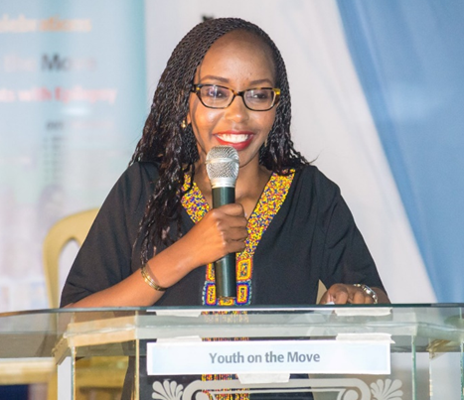 Florence Gichoya first became intrigued by the subject of environmental diplomacy during her Master's in Diplomacy. Coupled with her passion for writing and communications, she feels that her work as the Communications Officer at ACC allows her to tap into her creative side for the betterment of communities whose voices need to be uplifted.
"Over 65% of Kenya's wildlife is not in the protected areas… they live among the pastoral communities, the Maasai, and working with them – helping their voices to be heard – this is something I find fulfilling."
In many ways, she feels that Kenya has taken positive, affirmative action to increase women's participation in the work force, such as the constitution ensuring that no more than two-thirds of the members of any elected or appointed body can be of the same gender. For those who want to join conservation and science communications, she says "Ask yourself 'what is the missing link?' Instead of just reporting what you see, it's an opportunity to fill real gaps in knowledge and awareness."
Gladness Mtega
Project Officer (DCP), WWF Tanzania Country Office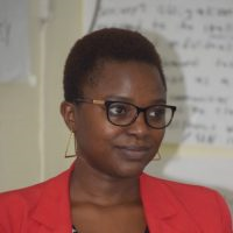 With a background in Arts with Education, Gladness Mtega did not expect to be working in conservation and development at the start of her career, but her enthusiasm and skills saw her moving from intern to Project Officer within WWF, based in Tanzania. She feels positively about the opportunities becoming available for women and girls to enter conservation careers in East Africa, and notes that this is critically important to enable marginalized voices to be heard.
"Even when we go to the field, there are many instances where only a woman can go and address a certain stakeholder group, such as talking to females in some coastal communities – a man cannot go and do it. If we don't have female officers or researchers within our own team, then the voices from that community won't become a part of the larger discourse."
Vivian Njogu
Research Assistant, Institute of Climate Change and Adaptation (ICCA), University of Nairobi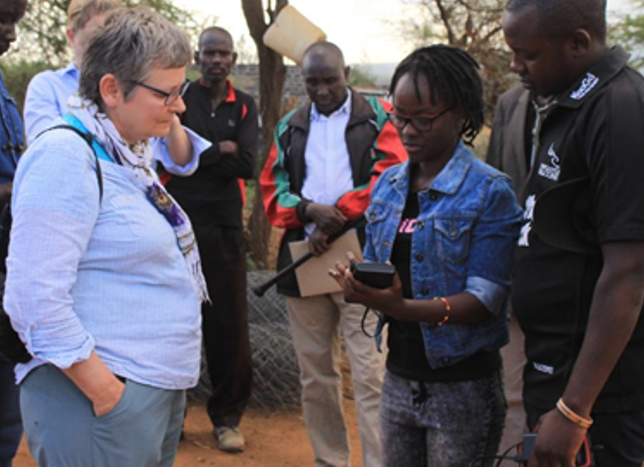 Vivian collecting responses in the field
An environmental scientist with a keen interest in climate change adaptation, natural resource management, and wildlife conservation, Vivian spent three years working on Environmental and Social Impact Assessments (ESIAs). She is now doing her MSc in Climate Adaptation at ICCA, where she is focusing on building communities that are resilient to environmental shocks.
"I want to empower youth and especially women in the community to be more proactive in solving environmental management problems, to enable them to survive and adapt sustainably in a fast-changing environment."
She feels strongly about the need for youth to unite behind science, helping to create evidence-based solutions for complex development problems, and encourages anyone interested in this field to go for it!
To keep up to date with the exciting findings of the Development Corridors Partnership, follow us on Twitter, and browse our website. Don't forget to take a look at our recent publications!
---
[1] Progress towards the Sustainable Development Goals, Report of the Secretary-General, https://undocs.org/en/E/2020/57
[2] World Bank. 2012. World Development Report 2012: Gender Equality and Development. World Bank. © World Bank. https://openknowledge.worldbank.org/handle/10986/4391 License: CC BY 3.0 IGO.