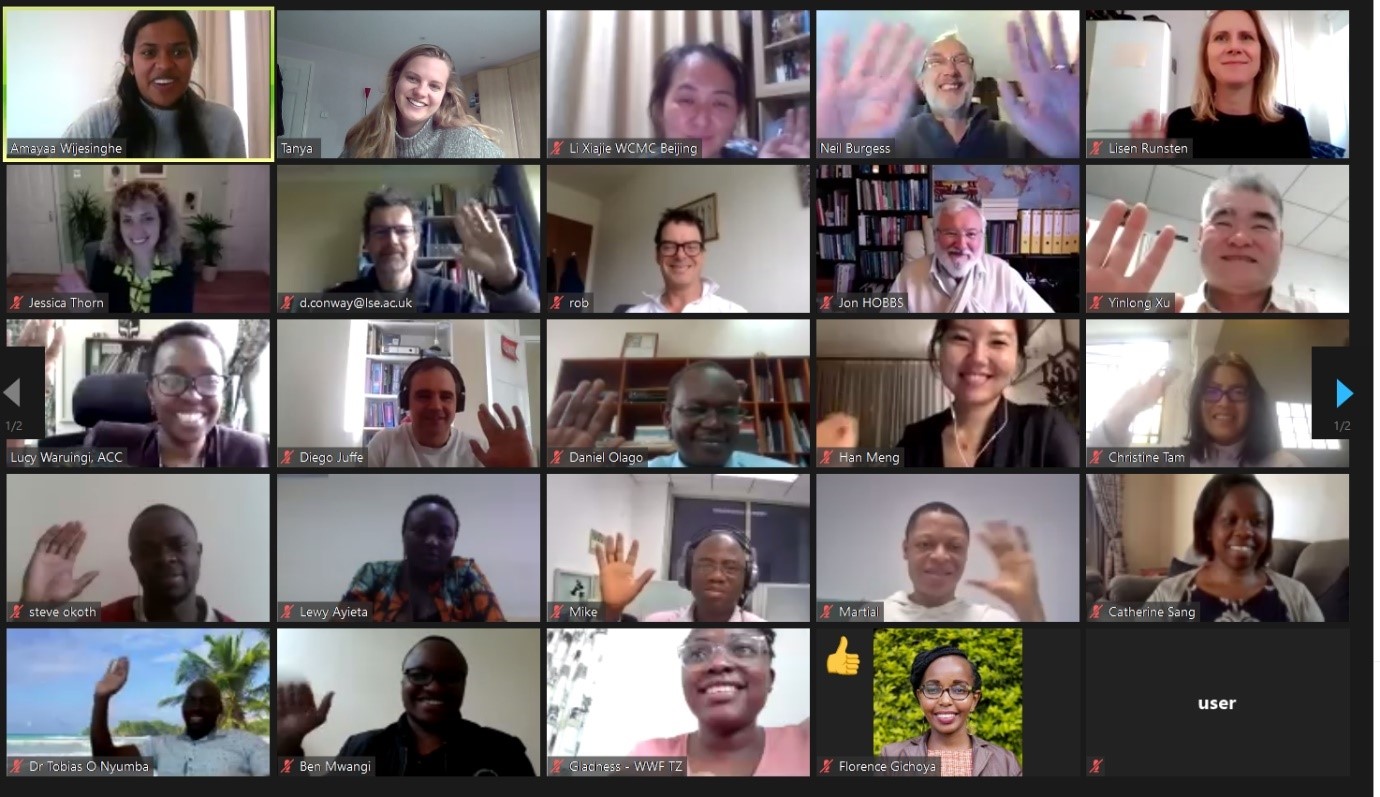 DCP holds its Internal Mid-Term Conference : 22nd – 25th Sep 2020
As the Development Corridors Partnership (DCP) nears its final year (2021), over 40 researchers and project partners from 11 institutions in Kenya, Tanzania, China and the UK met for an internal mid-term conference, held semi-virtually from 22nd – 25th of Sep 2020. This global virtual meeting replaced DCP's initial plan to host an in-person Midterm Conference in East Africa in June 2020, as these arrangements were disrupted due to the COVID-19 pandemic. The conference proved to be a key project milestone in celebrating DCP's research and capacity building progress. It was also an opportunity to ideate further collaboration, outputs and synthesis for targeted impact in 2021.
Conference format
The conference was structured as a four-hour agenda for each day and was held from 9.00am – 1.00 pm UK time, in order to maximize participation across the diverse time zones of the DCP team. Each day consisted of mix of presentations and facilitated group discussion ('synthesis') sessions over the Zoom platform. These synthesis sessions were further enhanced by using the Miro platform, which allows multiple users to map out ideas and activities using virtual boards. These boards were shared prior to the conference days, and were also kept open post-session, so that participants could continue to add ideas at leisure.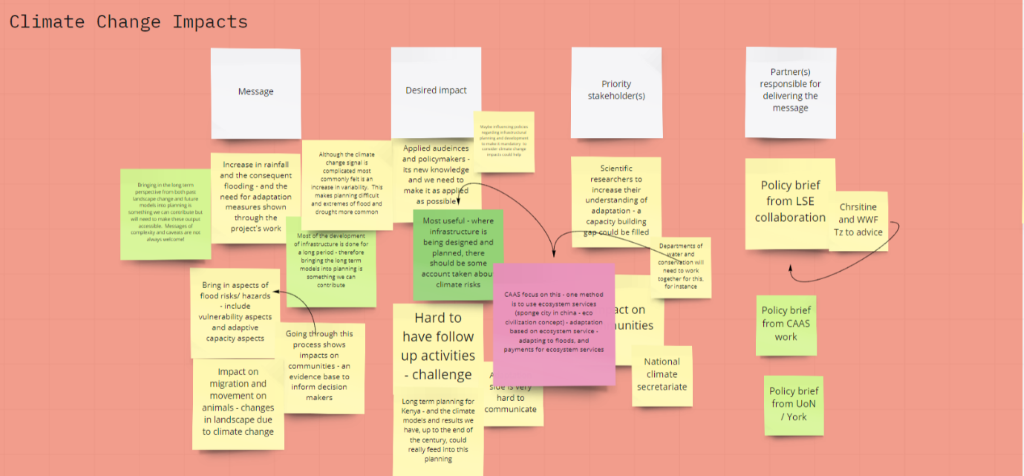 We used Miro to articulate the messages and desired impact that becomes evident through research being presented during the conference
Researchers who were unable to join due to technical difficulties pre-recorded their presentations, and this proved an effective way to overcome digital and geographical barriers.
Additionally, in order to simulate the in-person experience of a conference for the participants (joining in virtually from their dining rooms, kitchens and bedrooms around the world), a series of informal catch-up calls were organized the week prior to the conference. These were optional, drop-in chats, where we were able to interact outside the formal structure of a tight agenda. This was a good warm-up for the following week, where the DCP cohort delved into their extensive work over the past two years.
Although the conference was primarily virtual, the DCP University of Nairobi team were able to meet at the university, while complying with local recommendations for gatherings
DCP's pathways to impact
The conference themes, across the four days, were based on 'Impact Pathways' that the project has mapped out for itself (for more information about how we developed these Impact Pathways, see this post).
Day 1 – Landscape level dynamics in development corridors: The past and the present 
To begin the conference, Principal Investigator Neil Burgess provided an introduction from the facilitating organisation, UNEP-WCMC. Senior Project Manager Lisen Runsten (UNEP-WCMC, UK) also summarised the project goals at inception (see below), the progress of partners in terms of outputs vs. spending, and the next steps to explore throughout the conference.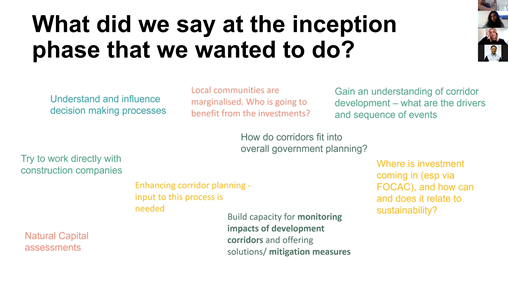 Presentations on day one focused primarily on analysing land use change associated with the Standard Gauge Railway (SGR) in Kenya (Catherine Sang/ University of Nairobi, Kenya), and the Southern Agricultural Growth Corridor of Tanzania (SAGCOT) (Nyemo Chilagane/ Sokoine University of Agriculture – SUA, Tanzania), and the use of participatory scenario modelling to explore historic land use conversion along the SGR (Jessica Thorn/ University of York, UK). A further presentation explored the role of scientific research input into land-use planning and policy (Gladness Mtega/ WWF Tanzania).
Climatic impacts on African landscapes and development corridors, and extreme precipitation, flooding and drought implications, were also presented (Mike Amatus and Martial Amou/ Chinese Academy for Agricultural Sciences – CAAS, China), setting the stage for day 2.
Day 2 – Conservation implications and impacts of climate change in development corridors  
The first session of day two was focused on understanding a key knowledge gap that DCP hopes to fill – the impacts of corridor-related developments on biodiversity and ecosystem services. Presentations included mapping of wildlife corridors across the Kilombero valley in Tanzania (Pablo Cisneros Araujo, Miguel Ramirez Lopez and Diego Juffe Bignoli/ University of Copenhagen, Denmark and UNEP-WCMC, UK) and investigating patterns of wildlife mortality associated with infrastructure using a new monitoring tool (Tobias Nyumba/ African Conservation Centre – ACC and University of Nairobi, Kenya). Insect diversity in forest ecosystems in part of SAGCOT in Tanzania was also presented by Paulo Lyimo (SUA, Tanzania).
Water security and climate change predictions was also a key theme on day two, exploring water scarcity predicted in 2030 and 2050 along the SGR (Catherine Sang), and adaptation options and impacts on development in the Rufiji Basin (Declan Conway/ London School of Economics, UK).  Yinlong Xu presented his results regarding the climate change adaptation plan in SAGCOT (CAAS, China). Another highlight of day two was a video presented by Francis Kago and Florence Gichoya (ACC, Kenya), showing pictures and memories from fieldwork undertaken by various members of the DCP team over the last two years.
Day 3 – Socioeconomic and political impacts from existing corridor implementation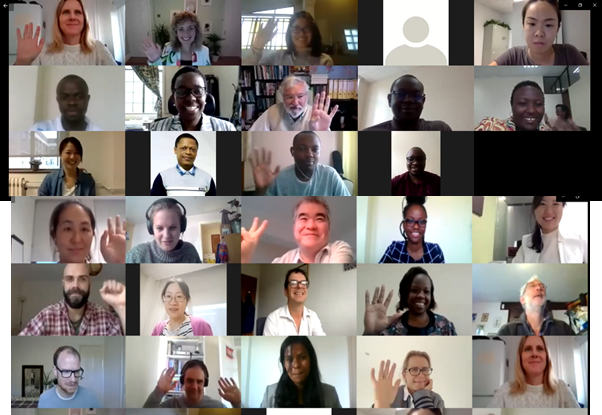 Consultants from DCP partners in China led the first presentations of day three, exploring the role of Chinese investment in development corridors in terms of overseas development financing in Kenya and Tanzania (Sun Tianshu/ Chinese Academy of International Trade and Economic Cooperation – CAITEC, China), and under South-South cooperation and the Belt and Road Initiative (Chai Qimin/ Independent Consultant). Huang Zhengli (University of Cambridge, UK) also presented the role that Chinese contractors play in the SGR, and the narratives and sociocultural perceptions surrounding these bilateral relationships.
Further presentations on day three explored the social and political impacts of existing corridors in East Africa and integrating the SDGs in future infrastructure developments. Gediminas Lesutis (University of Cambridge, UK) detailed his research on the impact of the Lamu Port- South Sudan – Ethiopia-Transport Corridor (LAPSSET), Kate Gannon (LSE, UK) explored the alignment between achieving the SDGs and development corridors and Jessica Thorn presented her work on future land use scenarios to achieve agricultural green growth in the Kilombero cluster of SAGCOT. Swenja Surminski (LSE,UK) also detailed progress and plans for a UK-China policy publication on the potential for stronger SDG integration in investment planning for development corridors.
Day 4 – Improved impact assessment, enhanced corridor planning and sustainable implementation 
To begin the final day of the conference, Jon Hobbs (DCP Senior Advisor) presented an overview of the collaborative DCP report on 'Impact Assessment for Development Corridors'. Diego Juffe Bignoli (UNEP-WCMC, UK) presented the findings of his review on the use of impact assessments and mitigation measures to manage impacts on biodiversity within development corridors.
Database of development corridors in Africa
A highlight of day four was the presenting of the first-ever comprehensive database of development corridors in Africa by Ben Mwangi (University of Nairobi), Jessica Thorn and Diego Juffe Bignoli, created in partnership with WWF. The database, once it is launched, will provide diverse stakeholders with up-to-date information on extent, economics, and prospects of corridors across the continent. It will also be accessible through the DCP open data portal.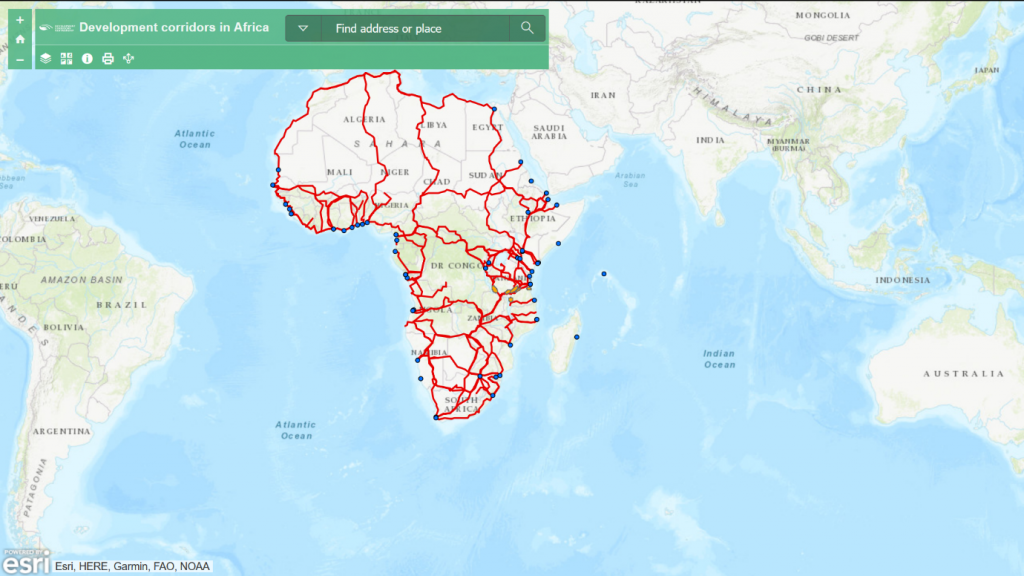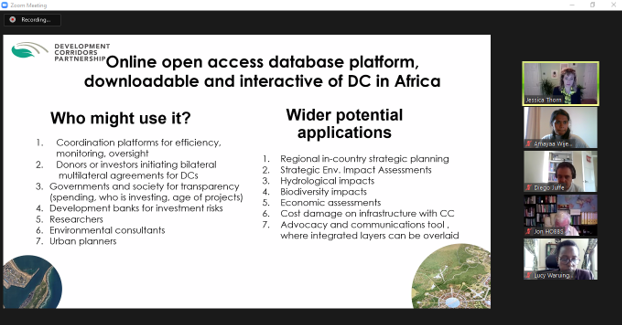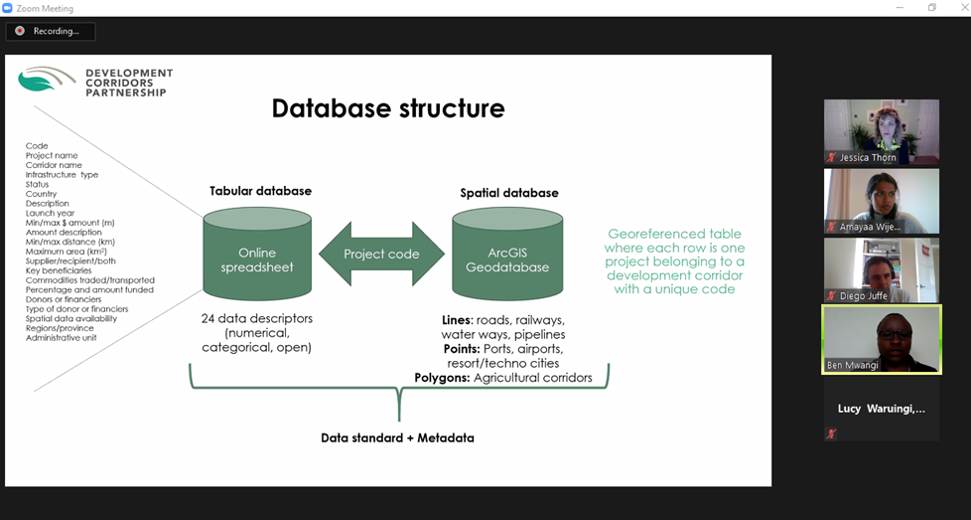 ESIAs and challenges
Another important breakout session was the identification of barriers to comprehensive and impactful Environmental and Social Impact Assessments (ESIA) in Kenya and Tanzania. Researchers identified some common challenges across both countries, such as public stakeholder engagement being poor, and coming in much too late in the EIA timeline to be integrated effectively into recommendations. In Tanzania, another pressing problem is the lack of access to documented ESIAs, while Kenyan researchers questioned the credibility of certain EIAs that are skewed by vested interests of the project proponents who fund the EIAs.
Ignite presentations
In addition to the presentations made over the four days, the research assistants and masters students working on DCP also used the Ignite Presentation format to make five minute speed talks about their ongoing work.
Elena Castellano (LSE) summarised her research on the role of development corridors in country CO2 emissions, while Steve Okoth (University of Nairobi) presented an assessment of water resources governance and management of water resources along the Standard Gauge Railway. Further Ignite presentations looked at water supply, demand and management within specific catchments along the SGR in Kenya (Ben Mwangi, Vivian Njogu/ University of Nairobi). The potential for system rice intensification- reducing both water usage and impacts on climate change in the SAGCOT clusters in Tanzania- was presented by Gyilbag Amatus (CAAS).  
Martial Amou (CAAS) explored future flood risk within the SGR and Tom Randa (University of Nairobi) presented the climate change and development impact on water use and demand in the upper Ewaso Ngiro Basin of the LAPSSET corridor in Kenya.
Way forward
The synthesis and discussion sessions at the end of each conference day proved to be instrumental in bringing together the diverse, multidisciplinary work of the DCP cohort. Miro boards and Zoom breakout sessions were used to map out the 'DCP Big Wins' for 2021. These include the mainstreaming of DCP research findings into policy processes in Kenya and Tanzania, as well as increased awareness and engagement around corridor sustainability by adjacent local communities and decision-makers.
The four-day conference ended on a high note on 25th Sep, with all DCP researchers energized by the prospect of accelerating collaboration, and strategically creating impact, as we look towards 2021 and beyond.