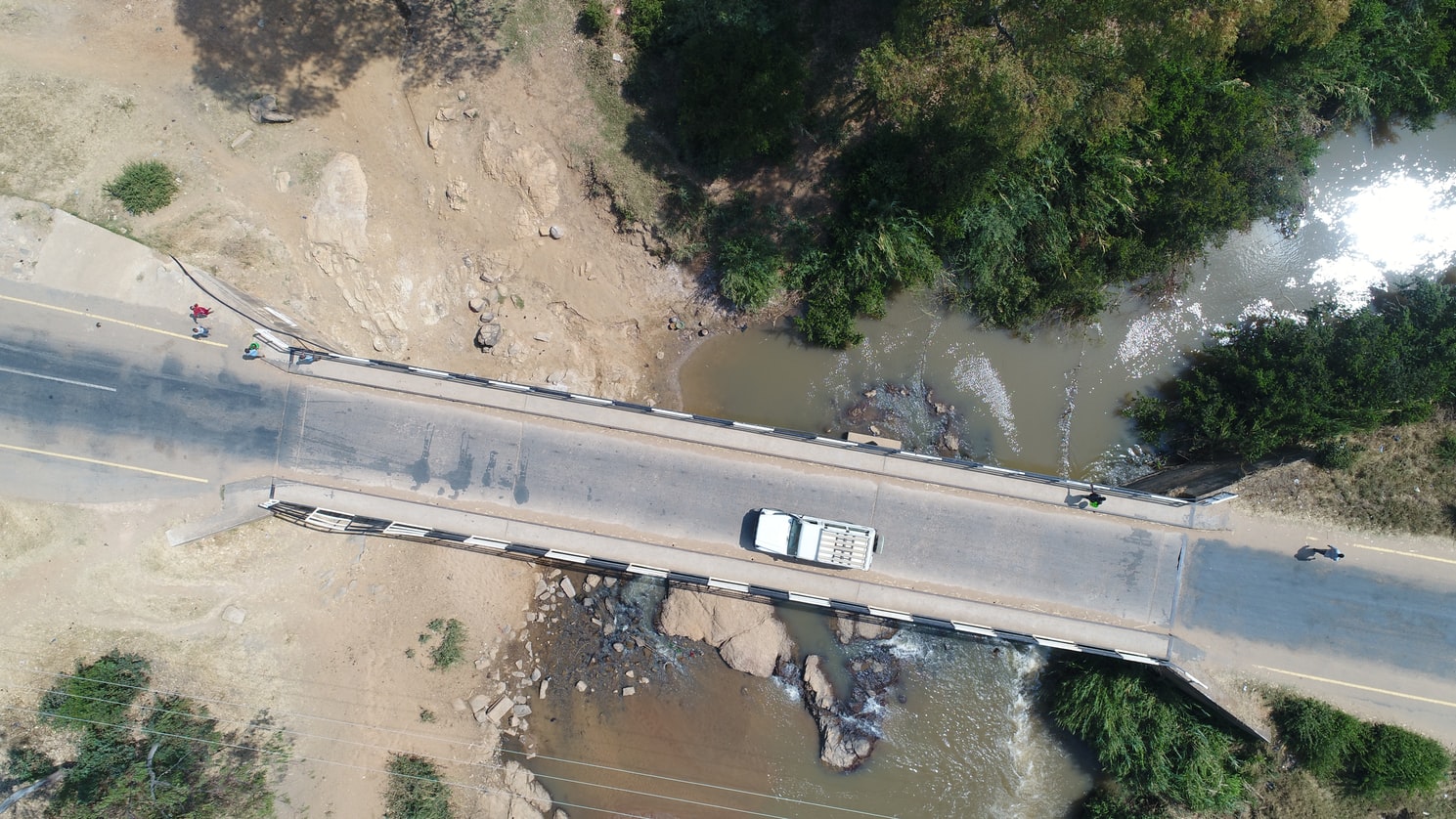 Early strategizing to achieve impact: using Kumu across a multi-country project
By Sicily Fiennes (Intern/UNEP-WCMC)
UNEP-WCMC is leading the process to map and visualise research taking place across 4 country teams, within the GCRF Development Corridors Partnership. We are critically considering the proposed outputs and planning plausible ways that these could lead to outcomes and longer-term impacts. By taking this approach, we hope to better fill in the gaps between project results and achieving outcomes.
What are Impact Pathways?
Impact Pathways sit within a Theory of Change (ToC), and provide a series of propositions or hypotheses on
How research will be disseminated, and subsequently adopted or assimilated
By whom
How this will lead to some form of change
(Institute of Development Studies, 2019).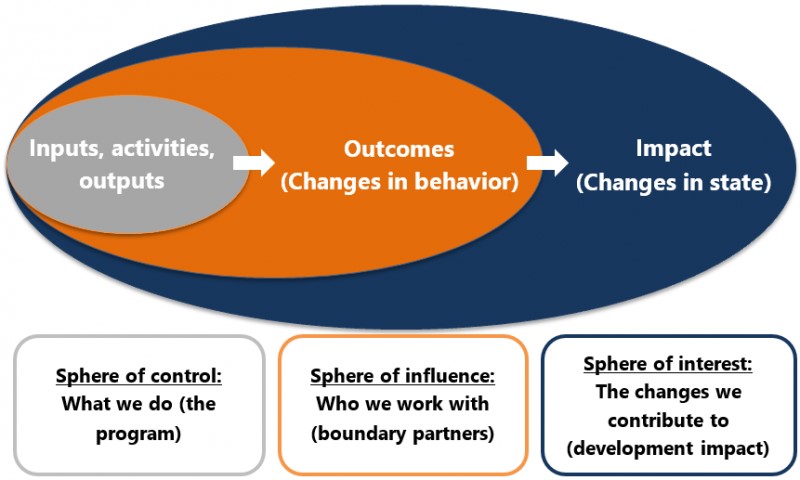 The various spheres that impact pathways cross. Credit: Institute of Development Studies, 2019
Impact Pathways are related to program theory – which is an explicit theory or model of how a project will, or has, brought about impact (Rogers et al., 2008). The hierarchy begins with the project outputs, followed by a chain of intermediate outcomes. These are followed by the wider and often longer-term outcomes and, eventually, long-term impacts (Douthwaite et al. 2003). Our target outcomes consist of a change in behaviour in a target stakeholder or stakeholder group within our sphere of influence. Impact refers to a change of state in a place or process.
Co-designing the bigger picture
By using impact pathways, we are also visualizing the interconnectedness between activities and outputs across work packages and country teams within the DCP, and thus breaking free from operational silos. Investigators, researchers, and coordinators working on various aspects of DCP have come together to define their outputs and co-producing the synergised outcomes. We have taken a systems mapping approach for impact pathways, describing the 'who, what, where, how and when' nature of each area of the project.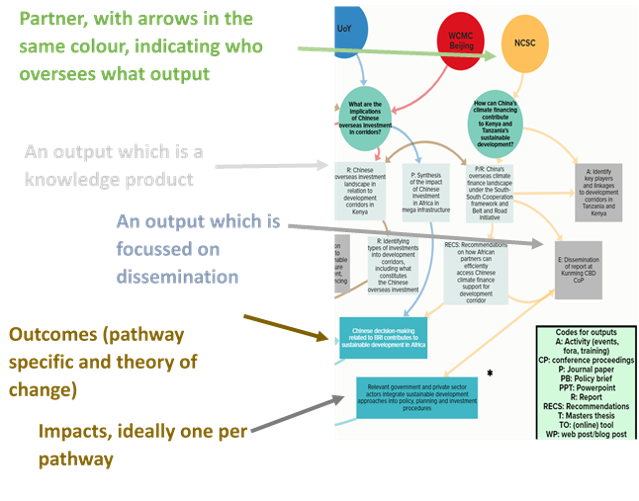 A brief schematic of the flow of logic from partnership control/ownership to primary outcomes (specific to log frame/country teams) and finally mapped to the relative project-level Theory of Change. The coloured arrows indicate organisational ownership by each partner.
Use of KUMU to visualise impact pathways in large framework projects
Our platform of choice for building these Impact Pathways is Kumu, and was inspired by a UKRI workshop on Impact Pathways.
Kumu (the Hawaiian term for "teacher" or "source of wisdom") is a web-based visualisation platform that organises complex data into relationship maps that are easy to understand and use. It also allows real time, shared access with team members, simplifying collaboration. Kumu has been employed by UNEP-WCMC to visualise the systems within the DCP, allowing us to carry out basic forms of interplay between interacting forces in the life cycle of a development corridor.
Getting started with Kumu
To develop the pathways using input from partners across the globe, we have been meeting in partner groups between February and July 2020, convening researchers in different country hubs and work packages. When building impact pathways, it's important to have an appreciation of the untapped knowledge which partners hold, which may not necessarily be captured in log frames or workplans but are necessary to achieve overall impact.
We were delighted to host a recent training with over 25 researchers from across the consortium. One of the most important aspects of the DCP project is building capacity amongst our partners.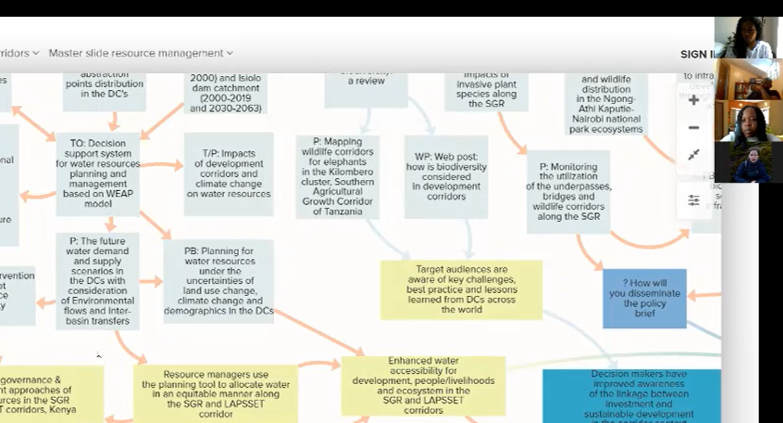 A screen grab of the DCP impact pathways training with colleagues from Kenya, Tanzania, China, and the UK
Through this work, we have identified where assumptions are weak, and where there are either large assumptive gaps between outputs and outcomes, or where the outcomes do not capture the outputs sufficiently. Where there may be significant 'jumps' in logic between outputs which are knowledge products and the outcomes themselves. Where this may happen, it is important to tailor dissemination events to spread the key messages from these outputs, in order to try and achieve an outcome. The pathways highlight collaboration and synergy in similar outputs across the Hub and show opportunities to facilitate further discussion.
We have found this method very helpful to structure a large-scale research program such as DCP, building on the traditional structure of work packages. More importantly, our approach incentivises collaboration, and we hope that in the last year of the project, we will see many opportunities for co-producing and implementing the outcomes and impacts of the hub's work.
Furthermore, these pathways can help all researchers in the DCP see where their work fits into the impact pathways and should help us (in theory) maintain a coherence of purpose across the project's lifetime. This is particularly useful for the DCP, as we have many partners working on different phases of a development corridors lifetime, using focal corridor case studies in East Africa. These include ongoing corridors, such as the Standard Gauge Railway (SGR), and the Lamu-South Sudan-Ethiopia Transport Corridor (LAPSSET) in Kenya. In Tanzania, the key case studies centre around the Southern Agricultural Growth Corridor of Tanzania (SAGCOT).
Impact pathways training and discussion sessions
What change do we want to see in the world as a result?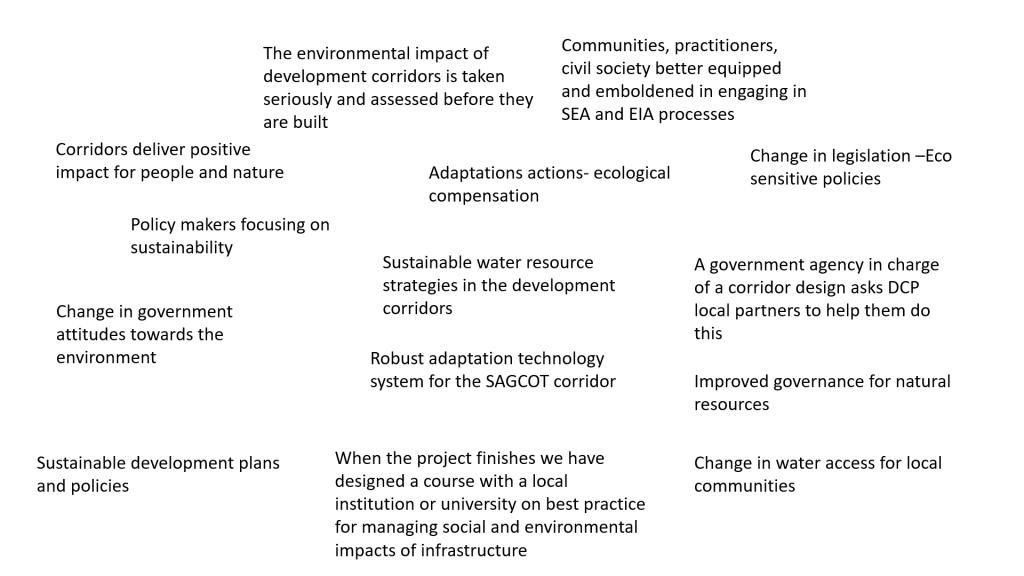 Summary of researchers' responses
Top tips for using Kumu to build impact pathways (and as a project management tool)
Start mapping impact pathways early in your research project- it is a nightmare to retrofit new and aspired-to outcomes to outputs that were planned years before
Think of the links between the outputs and outcomes in particular- which boundary partners/agents of change can we engage with to disseminate our outputs – outputs cannot magically lead to behavioural/ attitudinal change
To build the pathways, you can bring your log frame to life, by linking all outputs to their pre-specified outcomes, for example linking the activities (1.1, 1.2) within one mother output (1), and connecting to the outcome (1)
It is particularly recommended to look in the Getting started section of the Kumu platform, as well as watching some of the Kumu webinars. You can also join the Kumu Slack channel – the workspace name is 'Kumunity'.
Pick your poison- although we chose Kumu to represent out impact pathways, it is not necessarily the best fit for smaller projects with fewer partners, other popular alternatives for building theories of change include Miro, yED or Lucid Chart. However, Kumu is more fluid, customisable and easy to update.
In order to start making maps in Kumu, you can join here: https://kumu.io/register. For DCP partners who want to be added into the WCMC Kumu organisation, please contact the UNEP-WCMC project management team on Basecamp.